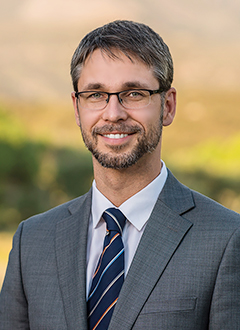 Hello and welcome to Olivet University
in the name of Our Lord and Savior Jesus Christ!
I am thankful and delighted to introduce you to Olivet.
We are a Christian university completely committed to our mission of raising leaders and scholars to fulfill the Great Commission. To this end, each and every one of our programs is intended to instill a love for God's Word, as well as a passion for sharing it with others through missions and ministry.
Olivet started out with a vision to train ministers who would preach the Word of God to the ends of the earth. A true seedbed for missions, Olivet Theological College and Seminary (OTCS) sent out pastors and missionaries across the world - including places that historically have been hostile to the Gospel of Jesus Christ. These especially difficult mission fields produced character-building perseverance and enduring hope in Olivet. They also inspired Olivet to develop God-sharing tools of technology, which transformed Olivet into the leading online educator that it is today.
Nearly a quarter of a century later, the founding vision of OTCS is alive and thriving at Olivet University. By the grace of our Lord, Olivet's programs have greatly expanded in scope to span the undergraduate, graduate, and doctoral levels. Though the theological school remains Olivet's flagship college, we also provide areas of study in music, journalism, design, information technology, language and business. These accredited programs provide quality and rigorous learning experiences that are producing leaders whom are increasingly better equipped to face the modern-day challenges of their respective fields. Education at Olivet involves immersive field experience and classroom learning. Just as in its beginnings, our university's two-part structure of academics is intended to link theory to practice, where students can efficiently apply their textbook knowledge. Hence, the Olivet mission is to graduate men and women well-practiced and positioned to succeed in professional ministry service.
As Apostle Paul once said, "Press on toward the goal to win the prize for which God has called [him] heavenward in Christ Jesus" (Philippians 3:14). In the same spirit, learning at Olivet is a lifelong journey. We emphasize the importance of continuous study in our pursuit of excellence. This is something we value at Olivet University. I invite you to explore our website to learn about, pray for, and participate in the great things God is doing in and through Olivet. Please visit often, and once again, welcome to Olivet University!
Blessings in Christ,

University President